____
Because the Swiss owners consider closing and abandoning the 'English' Cemetery in Florence if it cannot become economically viable, to save this library and archive of history written in marble in which we all share we have created a petition at
http://www.thepetitionsite.com/takeaction/471134975
,
'That the Swiss-owned, so-called 'English' Cemetery in Florence be kept open, be restored and be declared a UNESCO World Heritage Site' / 'Che il Cimitero 'degli Inglesi' a Firenze di proprietà Svizzera possa ancora essere visitabile, sia restaurato e sia dichiarato dall'UNESCO Patrimonio Mondiale dell'Umanità'

Dear Aureo Anello Member, Friend of the 'English' Cemetery in Florence, and Interested Others,
If you would like to adopt a tomb, to repair and research it, contact us. We should be particularly grateful if the tombs of Elizabeth Barrett Browning, Walter Savage Landor, Fanny and Theodore Trollope and Arthur Hugh Clough were so adopted.
Just yesterday as I was photographing all these tombs for a web essay on tombs to repair, I found that the two tombs at the top back of the cemetery have yellow forsythia profusely in bloom on their wrought iron arch, though it is still winter with ice forming in troughs. (Next, we need to train two roses on the arch over the child's tomb.)
COUNTESS CHARLOTTE SOPHIA GIGLIUCCI/ ENGLAND/ [Coat of Arms]/ CHARLOTTE SOPHIA, MOGLIE DEL CONTE GIOVANNI GIGLIUCCI/ NATA A LIVERPOOL IL 4 AGOSTO 1841/ MORTA A FIRENZE IL 12 FEBBRAIO 1920/ ET LAUDENT EAM IN PORT/ C30M
COUNTESS EDITH MARGARET GIGLIUCCI/ ENGLAND / [Coat of Arms]/ EDITH MARGARET/ MOGLIE DEL CONTE MARIO GIGLIUCCI/ NATA LIVERPOOL IL 26 AGOSTO 1847/ MORTA IN FIRENZE IL 16 NOVEMBRE 1909/ C29M
CONTE GIOVANNI GIGLIUCCI/ ITALIA/ [Coat of Arms]/ CONTE GIOVANNI GIGLIUCCI/ PATRIZIO FERMANO, NATO A FERMO IL 18 NOVEMBRE 1844/ MORTO A FIRENZE IL 6 DICEMBRE 1906/ VIRTUTE ET FIDE BENE QUI LATUI BENE VIXIT/ C30L
CONTE MARIO GIGLIUCCI/ ITALIA/ [Coat of Arms]/ CONTE MARIO GIGLIUCCI/ PATRIZIO FERMANO/ NATO A FERMO IL 19 NOVEMBRE 1847/ MORTO A FIRENZE IL 13 GENNAIO 1937/ RECTE ET SUAVITER/ C29M
These tombs are of an Italian count who married a young lady from Liverpool. Next to them are the tombs of the count's brother, also a count, and his wife, the sister of the lady from Liverpool! They are very lovely but in pietra serena which crumbles and which will need consolidation.
Our most famous tombs are in need of a restoration campaign by the expert Alberto Casciani. They are those of Elizabeth Barrett Browning by
Lord Leighton
(for which Aureo Anello has received 300 euro towards its needed 3000 euro and from a Moulton Barrett), Fanny and Theodosia Trollope, Walter Savage Landor and Arthur Hugh Clough.
We have republished on the web a story of
'Ensign Yelverton's Spoon'
written by Michael Ayrton.
.
We should like further interactive research carried out on the military regimental and naval figures buried here, and particularly on those who worked with Florence Nightingale and those who fought at Waterloo. We should also like research done on the armourial bearings on the tombs. And on the many Abolitionists against slavery who found burial here. For we are about freedom from tyranny, the right to be remembered. Death is a tyrant, but love overcomes death.
Holman Hunt sculpted his wife's tomb and placed on it the following Biblical quotation: 'Love is strong as death. Many waters cannot quench love neither can the floods drown it'. And he has her sarcophagus, like an arc, floating on waves of marble.
*§ +/ FANNY WAUGH HUNT/ ENGLAND/ (Wough)[Waugh]/ Holman Hunt]/ Fanny/ / Inghilterra/ Firenze/ 20 Dicembre/ 1866/ Anni 33/ 959/ Fanny Wough Hunt, l'Angleterre/ [Freeman, 227-230]/ NDNB entry for Holman Hunt/[Written in Medallions on Coffin with Pelican in its Piety, Lilies, at each End, Floating on Water, on the Waves of the Sea]
WHEN THOU/ PASSEST THRO/ THE WATERS/ I WILL BE WITH THEE/ AND THRO THE FLOODS/ THEY SHALL NOT/ OVERFLOW/ THEE [Isaiah 43.2]
IT IS/ I/ BE NOT AFRAID [Matthew 14.27]
LOVE/ IS STRONG AS/ DEATH/ MANY WATERS CANNOT/ QUENCH LOVE/ NEITHER CAN THE/ FLOODS DROWN/ IT [Song of Solomon 8.6-7]
//[on plaque at base] FANNY/ THE WIFE OF/ W. HOLMAN HUNT/ DIED IN FLORENCE DEC 20 1866/ IN THE FIRST YEAR OF HER MARRIAGE/ Holman Hunt, Sculptor/ E13I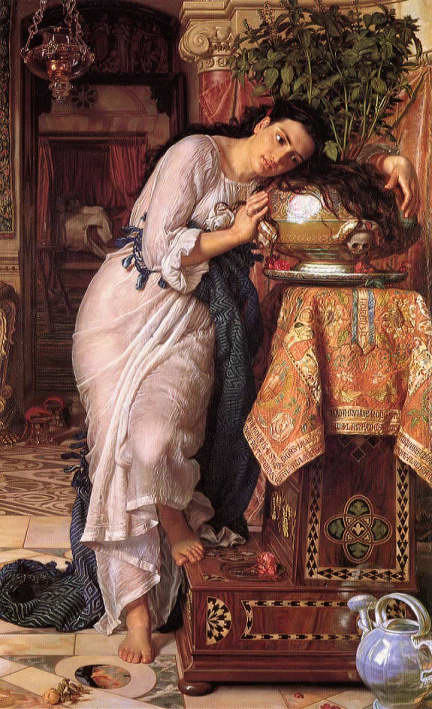 Holman Hunt's wife in Florence modelling for John Keats' Isabella and the Pot of Basil during their honeymoon.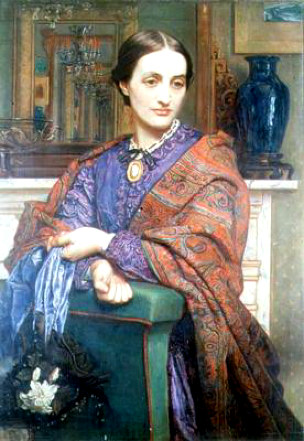 Fanny Holman Hunt, painted by her husband, Holman Hunt, during her pregnancy in Florence. He would marry her sister in order for their child, Cyril Benoni, to be raised.
St Mark's English Church in Florence
has a chalice and paten given in their memory.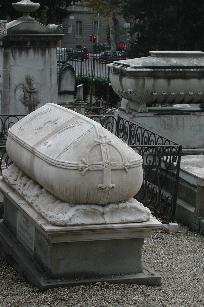 While sculpting his dead wife's tomb in Fiesole, Holman Hunt painted this portrait of a Tuscan girl plaiting straw. In it one can see San Domenico below Fiesole, where Fra Angelico was Prior and where the European University now is housed.
His wife's tomb finished, Holman Hunt went to the Holy Land, painting there by the Dead Sea, 'The Scapegoat'. Holman Hunt's versions of the 'Light of the World' are in St Paul's Cathedral and at Keble College, Oxford.
Indeed so many of our tombs have marble be what it is not, sculpted as delicate lilies, poppies, just as Time's scythe is about to cut them, wooden crosses, including the bark, coiled rope, daffodils, myrtle. Beside which were once planted these flowers and shrubs and which we can plant here again.
Julia Bolton Holloway, Professor Emerita
Director, Biblioteca e Bottega Fioretta Mazzei
'English Cemetery', Piazzale Donatello, 38
50132 Florence, Italy juliana@tin.it
http://www.umilta.net http://www.florin.ms
http://piazzaledonatello.blogspot.com
If you wish to deposit directly into the Emergency Appeal Fund you can do so at the Cassa di Risparmio di Firenze, Ag. 30, Viale Petrarca, Firenze, for the Chiesa Evangelica Riformata Svizzera-Restauro Beni account 849 00 066666, ABI 6160, CAB 2839, Coordinate bancarie B 06160 02839 000066666C00, IBAN IT85B0616002839000066666C00, Swift CRFI IT 3F
Or to Aureo Anello: by cheque made out to 'Aureo Anello' and posted to 'English' Cemetery, Piazzale Donatello 38, 50132 Florence, Italy; or through Pay Pal: