Because the Swiss owners consider closing and abandoning the 'English' Cemetery in Florence if it cannot become economically viable, to save this library and archive of history written in marble in which we all share we have created a weblog here at

http://piazzaledonatello.blogspot.com
and our petition is at
http://www.thepetitionsite.com/takeaction/471134975
The petition reads:
'That the Swiss-owned, so-called 'English' Cemetery in Florence be kept open, be restored and be declared a UNESCO World Heritage Site' / 'Che il Cimitero 'degli Inglesi' a Firenze di proprietà Svizzera possa ancora essere visitabile, sia restaurato e sia dichiarato dall'UNESCO Patrimonio Mondiale dell'Umanità'
Being international and ecumenical, we find we need to write to each nation which has burials in our Swiss-owned, so-called 'English' Cemetery in Florence. The first essay is to England, followed by the essay to America, then by the essay to Switzerland, then that to Russia.

To England:
I am writing to you because this summer the world-famous and very beautiful 'English' Cemetery in Florence, where Elizabeth Barrett Browning, Walter Savage Landor, Arthur Hugh Clough, Fanny and Theodosia Trollope, friends of Florence Nightingale, participants in the Battle of Waterloo, and many others are buried, was threatened with closure and abandonment. The PreRaphaelites William Holman Hunt sculpted the tomb of his wife Fanny and John Roddam Spencer Stanhope sculpted the tomb of his daughter Mary, that lie beside that of Elizabeth Barrett Browning by Lord Leighton. Members of the Royal Family found burial here, among them Charlotte, Countess of Strathmore and Kinghorn, and a natural son of King William. Mary Somerville, who taught Lord Byron's daughter Ada Lovelace mathematics, and thus being responsible for the IBM computer, buried her husband William here. Sir Franco Zeffirelli filmed
Tea with Mussolini
here with Dame Judi Dench memorializing Elizabeth Barett Browning. Opponents of slavery are buried here and among the friends of Florence Nightingale here is Thomas Southwood Smith, grandfather of Octavia Hill, and advocate of fresh air and sunlight in the home, recorded so on his tomb in Leigh Hunt's epitaph. His teachings would lead to a lessening of the deaths of women in childbirth and of small children.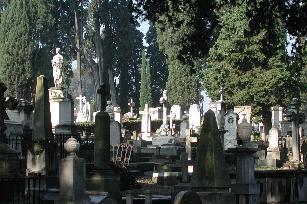 The land for the Cemetery had been bought by the Swiss Evangelical Reformed Church from the Grand Duke of Tuscany in 1827 for the burial of non-Catholics, whose bodies earlier had to be transported to Livorno, and the Swiss Church gave free burial to impoverished English travellers who died here as well as to poor Swiss church members. In 1877 the medieval wall against which it nestled was torn down, it was reshaped as its present oval island and then the so-called 'English' Cemetery was closed and abandoned. For over a hundred and twenty five years the Cemetery has been neglected. But it was for fifty years before that an fragrant garden with roses trained on wrought iron arches, strawberries on the graves, myrtle, laurel and lavender, beneath its great cypress trees. It is our hope to restore it as it was through the careful study of old photographs, paintings, writings and oral history.

Five years ago it was re-opened to the public and a library, workshop and exhibition space placed in its Gatehouse. The library is open to readers who give it a book a year and it particularly collects books by and about the persons buried here, scholars frequently using these in their research. The workshop carries out stone restoration, book-binding, paper marbling, replicating nineteenth-century handcrafts in the style of William Morris, and runs apprenticeship programmes in these areas. The exhibition space displays a fine collection of sepia photographs of Florence and first-edition books by and about Elizabeth Barrett Browning, Walter Savage Landor, the Trollopes, Anna Jameson, Isa Blagden, Kate Field and others. Each book received is given a book plate with the donor's name, city and date, so donors, as well as the persons buried here, will have their name remembered by others. Cemeteries are archives, data banks, from the past to the future, about human lives. For instance, two cousins came to see their ancestress' tomb and then arranged for its restoration. The curator asked her story. Sarah McCalmont had died in childbirth, but her child had lived and her Church of England clergyman husband had brought this orphan home to England, the baby becoming their ancestor, too. The curator asked for a picture of her. The cousins sent a photograph of a portrait of a young beautiful woman straight out of Jane Austen.




The monuments in marble on pietra serena bases range from the earlier neo-classic, for instance, anachronistic cinerary urns on columns, and often making use of Egyptian hieroglyphs, to the later Victorian realism, particularly shown in the statue of Walter Savage Landor's wife on their son Arnold's grave, as far away from and her back turned to her poet husband's grave, which shows her with wedding ring, bobbled shawl, knit scarf, in utter grief.

When Elizabeth Barrett Browning died, the City of Florence placed a plaque on Casa Guidi, in Via Maggio, where she had lived and wrote, stating she made of her poetry a golden ring, 'un aureo anello', between Italy and England. Robert then used that for the title of his The Ring and the Book. The Associazione Aureo Anello Biblioteca e Bottega Fioretta Mazzei e Amici del Cimitero 'degli Inglesi' (Golden Ring Association: Library and Workshop Fioretta Mazzei and Friends of the 'English' Cemetery), supports the library, runs international conferences in Florence on 'The City and the Book', and raises fund for the restoration and landscaping of the 'English' Cemetery. Initially an 'English' Cemetery in Florence Foundation was proposed, but the Swiss owners chose to work with the Aureo Anello Association and the City of Florence and the Region of Tuscany governments, within Italian legal frameworks. Donations may be received by the Swiss Evangelical Reformed Church in Florence or by the Aureo Anello Association and will be used entirely for the Cemetery's restoration.

Our visitors come from every country, our tombs' inscriptions being in many scripts and many languages; for though the English are in the majority, also buried here are Swiss, Russians, Americans, Greeks, Scandinavians and many others, at a time when Florence was a haven for great creativity. While the Americans who found burial here later often had themselves shipped in lead to be buried in the States, amongst the English there is the sense that where we lie is forever England. Partly for this reason the Italians call this oval in the Piazzale Donatello, the 'English' Cemetery. It is an island of Englishness far from home, an English and a world monument, in Florence. Our guest books fill up with signatures from everywhere; likewise the petition that the Cemetery be kept open, be restored and be declared a UNESCO World Heritage Site. The Cemetery has an extensive website, cataloguing the tombs and the books, and in this way acquiring further information and materials, descendants writing from Africa, from Australia, from America, from England, adding to the fine archives that are accumulating and ongoing, as well as a weblog and a petition.

The 'English' Cemetery in Florence either has to be abandoned by the Swiss owners or restored and shared by the English and the Swiss as a heritage for all the world. Its present condition is an actual danger to visitors. If it can be restored, with help from the private and international sectors as well as from the city and regional governments in Italy, it can again be opened as a working cemetery for the burial of ashes, though no longer bodies, and in this way become economically viable and also once more a place of great cultural value, to Florence, Italy, England and the world. Like its companion, the Protestant Cemetery in Rome, it is a shrine to poetry and sculpture, to literature and to art, and it is as well a monument to the abolition of slavery and serfdom, and to better world health and hygiene, to our longer lives and greater freedom.





To the United States of America:

This Cemetery in Florence is a way of studying the history in exile of Americans, British, Russians and Swiss. We seek your help in saving this treasure.

The very beautiful Swiss-owned Protestant and Orthodox Cemetery in Florence was first bought from the Grand Duke Leopold II of Tuscany in 1827. The Cemetery was then closed in 1877, following 50 years of intense use, when the medieval city wall was torn down, following which it could only be used for the burial of ashes, not bodies. Some of the American burials precede its closure, others, of ashes, were later. Quite often, Americans had themselves buried in lead, to be shipped to the States later.

These fifty years were a time of great cultural energy for the Florence of the Risorgimento, briefly the capital of Italy, in which Americans, as well as English and Russians participated fully. Sculptors like Hiram Powers and Joel Tanner Hart came here. Anti-slavery advocates like Theodore Parker and Richard Hildreth came here, there also being buried here the black Nubian Nadezhda (Hope) who came to Florence at 14 with Jean-François Champollion and Ippolito Rosselini's 1828 expedition, funded by the Grand Duke, her story being told on the marble of her tomb in Russian in Cyrillic characters, while Lord Leighton sculpted a broken slave shackle on Elizabeth Barrett Browning's tomb, for her family had been slave owners in Jamaica but which she passionately hated, writing her famous sonnet on Hiram Powers' 'The Greek Slave', the sculpture that had been at the centre of the 1851 Crystal Palace Exhibition and 'The Runaway Slave at Pilgrim's Point'.

Among the American Consuls were Hiram Powers and James Lorimer Graham, the latter having his portrait medallion sculpted by Launt Thompson, and who created a fine library and collection of art, which Daniel Willard Fisk, who lived in Walter Savage Landor's Fiesole villa, would in turn follow with his magnificent collection of books on Italian and Icelandic writers, now at Cornell University. Henry Adams' sister, Louise Adams Kuhn, is buried here following her death from tetanus in Bagni di Lucca,
and The Autobiography of Henry Adams describes this in his 'Chaos' chapter.

Not all Americans who visited Florence came to be buried here but these tombs record their friendships: Henry James was to write of Isa Blagden; Nathaniel Hawthorne having written of Isa Blagden and Theodosia Garrow Trollope in his Miriam in The Marble Faun; and Sophia Hawthorne of Hiram Powers and Elizabeth Barrett Browning, in her Diary; while Margaret Fuller was likewise Elizabeth Barrett Browning's friend, and who becomes the eponymous heroine of Aurora Leigh, complete with the Brook Farm phalanstery in the nine-book epic Elizabeth wrote following Margaret's drowning with her baby and Italian husband off Fire Island, Emerson sending Thoreau to look for their bodies. A photograph of Elizabeth Barrett Browning's tomb by Lord Leighton would be treasured by Emily Dickinson and this and Aurora Leigh be alluded to in her 'The Soul selects her own society' and other poems.




In this pre-1870 postcard photograph one can see the medieval wall as still present, outlining the cross John Roddam Spencer Stanhope sculpted for his daughter's tomb, and the ark William Holman Hunt sculpted for his wife.

Poignantly, many American babies are buried here, Italy being then subject to diseases like malaria, about which Henry James wrote, though several of Florence Nightingale's friends find burial here, including the physician Southwood Smith in a tomb with a medallion sculpted by the American Joel T. Hart, and the epitaph by Leigh Hunt that he advocated 'fresh air and sunlight in the home/ of the rich poor of happier years to come'.

Many Americans and an Englishman have helped make this web essay possible: Jeffrey Begeal, Carolyn Carpenter, Philip Henderson, Robert J. Robertson, Naomi Slipp, Don and Mary Williamson. The Swiss and the English thank them.





To Switzerland:

The very beautiful Swiss-owned Protestant and Orthodox Cemetery in Florence was first bought from the Grand Duke Leopold II of Tuscany in 1827, then closed in 1877 when the medieval wall was torn down and it became within the city limits of Florence and therefore illegal for burial. Its official name is the Cimitero Porta a' Pinti for that gate had been in what is now Piazzale Donatello. The original cemetery, from 1827-1869, was designed by Carl Reishammer to nestle against the wall at the Porta a Pinti, the Pinti Gate, itself first built by Arnolfo da Cambio, then reconstructed by Michelangelo, gave this appearance.




Later, Giuseppe Poggi incorporated it as an oval island with its tall cypresses within his great viali, now so filled with traffic.




It had this shape when Arnold Böcklin buried his seven month-old daughter Maria in this 'Island of the Dead', the 1860 Gatehouse reflecting the Egyptological studies of Jean-François Champollion and Ippolito Rosselini's Expedition to Egypt and Nubia funded by the Grand Duke in 1828. The painting would inspire the Opus 29 of Sergei Rachmaninoff.




The two stemma, with the lily of Florence and the cross of the Guelf party (like the Swiss cross), were removed from the demolished Arnolfo di Cambio and Michelangelo gate and placed on the back wall of the Cemetery. In the nineteenth century the area was an English garden with box hedges, roses trained on the iron arches above the babies' tombs, and rare plants that flowered joyously in the Spring, while family members would plant myrtles and laurels on the tombs of their husbands, wives and children.

The Cemetery is international and ecumenical. Its tombstones have verses from the Bible in Hebrew, Greek, Russian, German, French, Italian, Rumantsch and English and in Hebrew, Greek, Cyrillic, fraktura and Roman script, this at a time when Catholics were forbidden to read the Bible in their vernacular languages. Today even Catholics may have their ashes buried here and even Catholics, following Vatican II, read the Bible in Italian and other languages. Many babies are buried here and many women who died in childbirth, but friends of Florence Nightingale also found burial here and shared with Henri Dunant the concept of medicine as a human right. So this Cemetery was prophetic of our future, of a greater freedom, of religion, of health.

This Cemetery is filled with the tombs of great writers and artists, and also of ordinary people, Russian serfs, English servants, Swiss pastry cooks, and even the tomb of Nadezdha, a black Nubian slave brought to Florence at 14 with Champollion and Rosselini's 1828 Expedition to Egypt and Nubia, whose story is told in Cyrillic on her very beautiful marble tombstone of a Russian Orthodox cross, for she was baptised into that faith, while other tombs are of individuals who preached, wrote novels and wrote poems against the evil of slavery.

The Swiss were already present in Florence from the second half of the eighteenth century; prior to 1827 they had to be buried in Livorno. The Florentine Evangelical Cemetery's first burial was of Jean David Marc Gonin, whose tomb shows a handsome romantic young man on a column. Following him, its Swiss occupants include Giampietro Vieusseux, who founded the Gabinetto Vieusseux, free from the Grand Duke's censorship, where Robert Browning, Fyodor Dostoievsky and John Ruskin could be readers, but not, for being a woman, Elizabeth Barrett Browning, and Jacques Augustin Galiffe, the historian of the school of Jean-Charles-Léonard Simonde de Sismondi. While Elizabeth Barrett Browning, the most world-famous figure buried here, was deeply influenced by the Swiss Madame de Staël (Anne Louise Germaine Necker, baronne de Staël-Holstein), using her Corinne ou Italie for the plot of her nine-book epic Aurora Leigh.

An entire section of the Cemetery houses the tombs of members of the Wital family, one of them having been the Cemetery's Inspector and whose sculpted bust still surveys the surroundings, while his weeping widow and orphan in classical garb, in marble, are shown forever placing a garland on his grave. Other figures also cluster in that top right sector but are as well to be found throughout the Cemetery. Hardworking and devout, they were often pastry makers or involved in straw weaving. They gave free burial to the paupers of their own Evangelical church and also to foreign destitute travellers as an act of charity. Probably the only shameful Swiss figure is Julia Thuillier, the daughter of a bankrupt Swiss banker, and wife of Walter Savage Landor, who threw him out of the Villa in Fiesole he had given them. She is shown magnificently, ostentatiously sculpted in marble weeping on her son's tomb, her back turned to that of her husband's modest tomb beneath a laurel for his splendid poetry at the opposite side of the Cemetery.

Particularly the tomb inscriptions of the Swiss families are in multiple languages, German, French, Italian and Rumantsch. Televisiun Rumantsch came and filmed the Cemetery for several days studying the families from the Grigioni buried here. We had not at that date yet found the Swiss burial records which carefully list in French, written out in a beautiful hand, the canton, the occupation and the mother's maiden name of each burial. One tomb is especially endearing, where the children and grandchildren celebrate their mother and grandmother in that language quoting from the Book of Job. The linguist Noam Chomsky says a language dies if the grandparents and grandchildren cannot speak in it together. Our library within the cemetery collects books by and about the persons buried here. It begins with the Alphabet and the Bible in the original and in modern languages, including one in Rumantsch, and has books in Greek, Latin, Arabic, French, German, Italian, Rumantsch, Icelandic, Irish, Welsh, as well as a large collection on Florence and her art.

We consider this a Florentine monument, a Swiss monument, an English monument, an American monument, a world monument and we seek to have it become a UNESCO World Heritage Site. People writing on it rank it only second to Paris' Père Lachaise. It deserves restoration to its former beauty and to again become world-famous.





To Russia:

Among the guests of the English Cemetery we find first of all the most notable names of the members of the Swiss and English colonies of Florence. However, the story of the Russian colony, whose beginnings go back to the 1820's of the nineteenth century, is linked to this place.

Until the Second Vatican Council Catholics considered the Orthodox Church to be schismatic: in consequence in Italy the Russians did not have the right of burial in Catholic cemeteries. The rules were particularly restrictive regarding burials of non-Catholics in the Papal States.

In the Grand Duchy of Tuscany from the sixteenth century there was a Greek Orthodox cemetery at Livorno regulated by tolerant laws, in matters of faith, of Ferdinand I dei Medici, as for example the Livornian Law of 1552-1553. It was at Livorno, and not at Florence that did not yet have a Protestant cemetery, where were buried Russians who had died at the beginning of the nineteenth century. Among these we remember the Russian diplomat N. Korsakov, Pushkin's friend, to whom the poet had dedicated
poignant verses, speaking of his burial 'under the sweet myrtle of Italy', and the Russian ambassador at Rome A. Ja. Italinskij, buried at Livorno with a solemn funeral ceremony.

With the institution of a non-Catholic cemetery at Florence in 1827 the situation changed. Naturally the Russian tended to want to bury their dead in their own country and the English Cemetery sometimes served as a temporary resting place for the body before its being transported to Russia: this for instance was the case with Michail Zaseckij. And with that of Eugenie Jesakoff de Kraft.

In particular the representatives of aristocratic families who had their morturay chapels in Russia preferred to transport their loved ones there. However many of them remained for ever in Italian soil. And if there were no difficulties with the burial, in Catholic cemeteries, for those Russians who had converted to Catholicism, the Orthodox could instead find eternal peace only in cemeteries opened by Protestants.

In the English Cemetery during the period of its fullest activity, there came to be buried in all 50 members of the Russian colony. In large part these were representatives of the higher classes who came to Italy to cure themselves together with their servants: among these last we remember Kasincev, or the Nubian Kalima, baptized Orthodox with her new name 'Nadezhda', 'Hope'.

In the nineteenth century Florence became a major stopping place on the Grand Tour for the European cultural elites, among them the Russians. Many artists established themselves here for a long time: among these for example the painter Zeleznov, whose daughter rests in the Florentine cemetery, or the artist originally from Riga, Edvard Bosse, who settled at Florence with his family.

The vast Russian Empire was the country not only of citizens of Russian origin, concerning whom our register gives witness, but also those of German, Finnish, Polish, Moldavian origins.

The Cemetery closed in 1877, but more than a hundred years afterward it opened its gates again to welcome under the cypresses of the Piazza Donatello the famous Russian choreographer Evgenij Poljakov for whom Italy became a 'second country'.

We thank Mikhail Talalay of the Russian Academy of Science and Gino Chelazzi for this entry and their research on our Russian burials.

Julia Bolton Holloway, President
Aureo Anello Associazione Biblioteca e Bottega Fioretta Mazzei e Amici del Cimitero 'degli Inglesi'
Director, Biblioteca e Bottega Fioretta Mazzei
'English Cemetery', Piazzale Donatello, 38
50132 Florence, Italy juliana@tin.it

If you wish to deposit directly into the Emergency Appeal Fund you can do so at the Cassa di Risparmio di Firenze, Ag. 30, Viale Petrarca, Firenze, for the Chiesa Evangelica Riformata Svizzera-Restauro Beni account 849 00 066666, ABI 6160, CAB 2839, Coordinate bancarie B 06160 02839 000066666C00, IBAN IT85B0616002839000066666C00, Swift CRFI IT 3F

Or to Aureo Anello through Pay Pal: