All night it snowed, then the next night, and this never happens in Florence, that the snow rests on the ground. I took these pictures from the Gatehouse to share with you: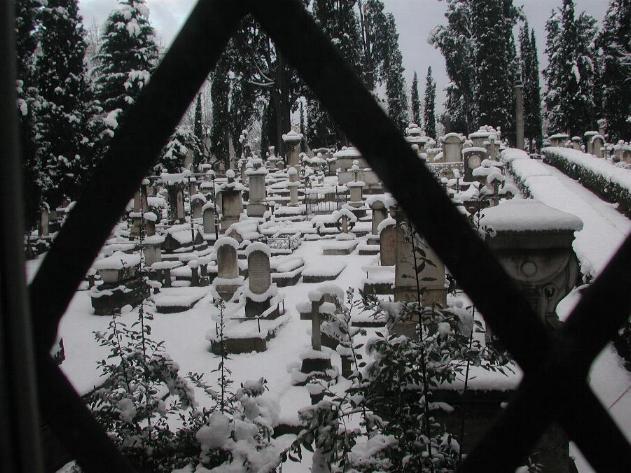 The object that looks like a fourposter bed in wrought iron to your left is over the tomb of Mrs Stisted, the 'Queen of Lucca'. It almost had white curtains of snow that night!
To your right you can see Arthur Hugh Clough's tomb, while on the left beyond the cross is Elizabeth Barrett Browning's.
We are in the midst of forming a Foundation under Italian law to protect the English Cemetery. The Aureo Anello Association will continue for library members and as 'Friends of the Cemetery', but lacks the clout to convince Foundations to take us seriously. We were threatened with closure again a few days ago. Despite this, there has been much generosity, people buying our marbled-paper limited editions of Elizabeth Barrett Browning's
Sonnets and Ballad
and Amalia Ciardi Dupré's 'Clasped Hands' of Robert and Elizabeth, as well as donations to Aureo Anello. We shall need funding from Foundations or the Regione or both to stabilise our hill and wall, but apart from having the expert Alberto Casciani to advise us it may be possible to do much of the tomb restoration on a voluntary basis.
The following associations and individuals are on the Honour Committee of the Emergency Appeal for the restoration of the Swiss-owned 'Cimitero Porta a' Pinti', known as the 'English' Cemetery in Florence:
Sir James Ackroyd, England
Alliance of Literary Societies, England
Amici dei Musei Fiorentini, Firenze
Armstrong Browning Library, Baylor University, America
Anthony Astbury, The Greville Press, England
Association for Gravestone Studies, America
Jeffrey Begeal, America
Clive Britton, Florence
Brontë Society, England
Browning Society, England
Dame Fiona Caldicott, Principal, Somerville College, Oxford, England
Carolyn Carpenter, America
Timothy Chaplin and Diane Lutz Chaplin, Florence
Chiesa Evangelica Riformata Svizzera, Firenze
Amalia Ciardi Dupré, Firenze
Leonardo Domenici, Sindaco, Comune di Firenze
Dame Judi Dench, England
English-Speaking Union, America
Ente Cassa di Risparmio di Firenze, Firenze
Gabinetto Vieusseux 'Centro Romantico', Firenze
Horace W. Gibson, Florence
Philip Henderson, Lucca
Robert Heylmun, Florence
Historic Gardens Foundation, England
Julia Bolton Holloway, Florence
Gerardo Kraft, Firenze
Landor Society, England
Moira Macfarlane, British Consul General, Florence
Lapo Mazzei, Firenze
Michael Meredith, Eton College, England
Sir Derek Morris, Provost, Oriel College, England
Priscilla Morss Bayard, Florence
Andrew Motion, Poet Laureate, England
Pre-Raphaelite Society, England
Giannozzo Pucci, Firenze
Luigi di Quintana Bellini Trinchi Principe di Cagnano, Cavaliere di Malta, Roma
Regione Toscana, Firenze
Salvatore Siano, 'Nello Carrara', CNR
Simone Siliani, Assessore alla Cultura, Comune di Firenze, Firenze
Carlo Steinhauslin, Firenze
Sir Roy Strong, England
Mikhail Talalay, Russian Academy of Science, Naples
Aeronwy Thomas, England
Dylan Thomas Society of Great Britain
Trollope Society, England
UNESCO World Heritage Site
Victorian Society, England
Waterloo Committee, Patron, Duke of Wellington, England
Anthony and Diana Webb, England
Timothy Wilson, Ashmolean Museum, England
Sir Franco Zeffirelli, Italy
Mariella Zoppi, Assessore alla Cultura, Regione Toscana, Firenze
Because the Swiss owners consider closing and abandoning the 'English' Cemetery in Florence if it cannot become economically viable, to save this library and archive of history written in marble in which we all share we have created a weblog here at

http://piazzaledonatello.blogspot.com
and our petition is at
http://www.thepetitionsite.com/takeaction/471134975
The petition reads:
'That the Swiss-owned, so-called 'English' Cemetery in Florence be kept open, be restored and be declared a UNESCO World Heritage Site' / 'Che il Cimitero 'degli Inglesi' a Firenze di proprietà Svizzera possa ancora essere visitabile, sia restaurato e sia dichiarato dall'UNESCO Patrimonio Mondiale dell'Umanità'
Julia Bolton Holloway, President
Aureo Anello Associazione Biblioteca e Bottega Fioretta Mazzei e Amici del Cimitero 'degli Inglesi'
Director, Biblioteca e Bottega Fioretta Mazzei
Member, ASCE (Association of Significant Cemeteries in Europe)
'English Cemetery', Piazzale Donatello, 38
50132 Florence, Italy juliana@tin.it
If you wish to deposit directly into the Emergency Appeal Fund you can do so at the Cassa di Risparmio di Firenze, Ag. 30, Viale Petrarca, Firenze, for the Chiesa Evangelica Riformata Svizzera-Restauro Beni account 849 00 066666, ABI 6160, CAB 2839, Coordinate bancarie B 06160 02839 000066666C00, IBAN IT85B0616002839000066666C00, Swift CRFI IT 3F
Or to Aureo Anello: by cheque made out to 'Aureo Anello' and posted to 'English' Cemetery, Piazzale Donatello 38, 50132 Florence, Italy; or through Pay Pal: