When Elizabeth Barrett Browning died, Italy's government had placed on Casa Guidi a plaque that said she made of her poetry a 'Golden Ring' between Italy and the English-speaking world. The Aureo Anello Associazione Biblioteca e Bottega Fioretta Mazzei e Amici del Cimitero 'degli Inglesi' (Golden Ring Association Fioretta Mazzei Library and Workshop and Friends of the English Cemetery), which is formed under Italian law, can receive funds in dollars, pounds and euro to be applied directly to urgent projects such as restoring the great wrought iron gates (we are currently scraping away their rust and painting these ourselves), and such as acquiring lavender and rosemary shrubs for creating hedges to keep people from walking amongst the now-dangerous tombs. We have re-created, thanks to the sculptress Amalia Ciardi Dupré, Harriet Hosmer's 'Clasped Hands' of Elizabeth and Robert Browning. We have also printed in William Morris type and hand bound in our own marbled paper, a limited and numbered edition of Elizabeth Barrett Browning's
Sonnets and Ballad
. These would make excellent wedding gifts, either separately or together. Donations for them will help pay for the 'English' Cemetery's restoration and maintenance.
We are not allowed legally to sell objects, not being commercial, but may receive donations. In exchange we have created a CD, called 'Florence in Sepia' which gives an entire nineteenth-century collection of photographs of Florence in sepia, that we exhibited in the Palazzo Strozzi last June and which are now available for viewing in the original in our Gatehouse, as well as the catalogue of the tombs, Victorian guidebooks of Florence and much else. We have re-created, thanks to Amalia Ciardi Dupré Harriet Hosmer's 'Clasped Hands' of Elizabeth and Robert Browning. We have also edited and printed, in William Morris type, and hand-bound in our own marbled paper, a limited and numbered edition of Elizabeth Barrett Browning's Sonnets and Ballad. Either separately or together these would make excellent wedding gifts. Suggested donations for the
'Clasped Hands':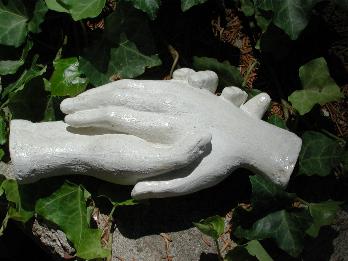 in plaster, 100;
in terra cotta, 250;
for the books, 50;
for the CDs, 10;
in dollars, euros, pounds. Please include an amount to cover postage.
Aureo Anello
Biblioteca e Bottega Fioretta Mazzei
Cimitero 'degli Inglesi'
Piazzale Donatello, 38
50132 FIRENZE
ITALY
To see further samples go to
http://www.florin.ms/claspedhands.html