Dear Friends of Florence's English Cemetery,
First, let me invite you to zoom in on the 'English Cemetery Florence' by simply typing in those words, then clicking on the place, in Google Earth. Or use the Russian version which interestingly combines a more primitive form of Google Earth with the Wikipedia:
http://www.wikimapia.org
.
Second, let me invite you here this coming Saturday, 23 September. At 11:00 a.m., I shall be speaking at the National Archeological Museum near by, and then at 4:00 p.m., we shall be reading Elizabeth Barrett Browning's translations of Apuleius' Cupid and Psyche in English and in Italian. If you cannot physically be present you can at least virtually be here at
http://www.florin.ms/apuleius.html
For the Archeological Museum has chosen to celebrate us for European Heritage week in Florence and we are most grateful. Their Egyptologist, dott.ssa Guidotti, has selected the Egyptian motifs on our Gatehouse and on our tombs, creating of these an exhibition in the museum, called 'Hope in Life Beyond Death'. This because we were founded at the same time as the Grand Duke funded Jean-François Champollion and Ippolito Rosellini's Expedition to Egypt and Nubia - which started the Liberty craze with lotus and papyrus. Vieri Torrigiani will bring lotus and papyrus to decorate the Cemetery for the event and the Archeological Museum is at this moment restoring Arthur Hugh Clough's tomb for it, for the design on Clough's tomb was traced directly from Champollion's volume borrowed from the nineteenth-century Marchese Torrigiani for that purpose.
Rosellini and Champollion in Egypt, 1828, Museo Archeologico, Firenze
They have sent out three thousand invitations with their logo of the Etruscan Chimaera, and the Consuls will be present as well.
And for the story of Cupid and Psyche - It is to be found embedded in
The Golden Ass
, a marvellous Latin romance about a man changed into a donkey by magic, who cannot change back again to being human until he eats roses - a kind of
Pinocchio
story. Elizabeth Barrett Browning translated excerpts from its story within a story during Robert's courtship of her and because she had been asked for these verses to illustrate a now mostly lost series of sculpted gems of the subject that had been commissioned by the Prince Poniatowski. The Ashmolean Museum is currently studying all aspects of these gems, whether lost or found. The catalogue published on them had some of the earliest photography done in daguerrotype. And John Roddam Spencer Stanhope, the Pre-Raphaelite artist who sculpted his daughter's tomb next to Elizabeth's, also painted her as Psyche with Charon. Grazia, our actress reading Apuleius' story in Italian, will be dressed like her.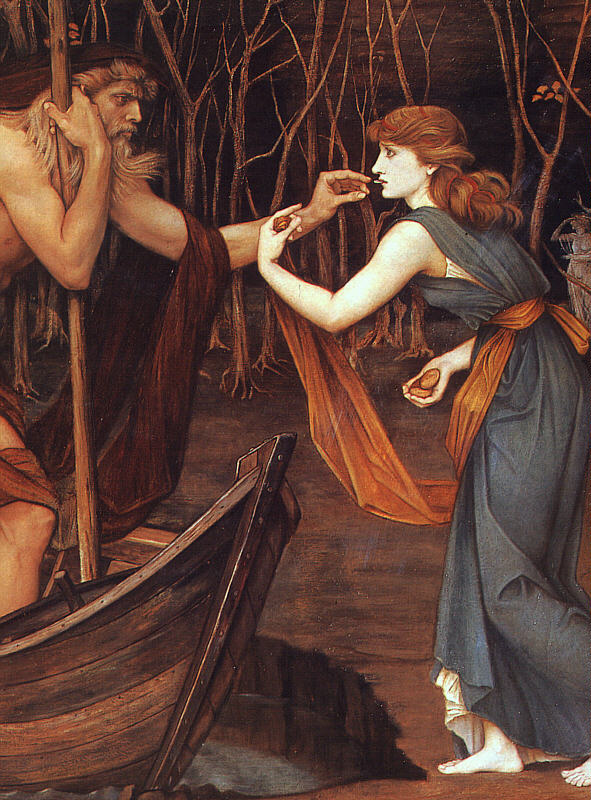 And now, as Terence's manuscripts end, 'FELICITER'.
This evening Vieri Torrigiani came with a great bath for the lotus (water lilies) and all of us were finding the stones to place around it, the grey green stones that had once been in the Ghibelline towers of pride, then torn down to build the Guelf walls of common defence built by Arnolfo di Cambio before Florence's defeat at the 1260 Battle of Montaperti, then rebuilt by Michelangelo against the Medici in the Renaissance. Saturday morning Vieri will be bringing the lotus and papyri. Assunta and I both of us, independently of each other, thought of him as Pan and the bath as Pan's river bank! Meanwhile we have been rehearsing and re-rehearsing our readings up by the great cross, beneath the words - in French - about being the Life and the Resurrection from John. All the programmes are now printed, and the handout, the tablecloths washed and ironed, the windows washed, but we have the cucumber sandwiches still to make.
We are now at 1218 signatures on the web at
http://www.thepetitionsite.com/takeaction/471134975
,
'That the Swiss-owned, so-called 'English' Cemetery in Florence be kept open, be restored and be declared a UNESCO World Heritage Site', and with 1419 signatures in-house from our visitors, for a total of 2633 signatures. We have decided to keep them coming.
If you wish to donate to the Aureo Anello Association for the restoration of the 'English' Cemetery you can do so by a cheque made out to 'Aureo Anello' and posted to 'English' Cemetery, Piazzale Donatello 38, 50132 Florence, Italy; or through the Pay Pal 'Donate' button below, which can also be used for the CDs, hand-bound limited edition books and sculptures of Elizabeth and Robert's
'Clasped Hands'
:
Sincerely,
Julia Bolton Holloway
Aureo Anello Association for the Library and Cemetery
Piazzale Donatello, 38
50132 FIRENZE, ITALY